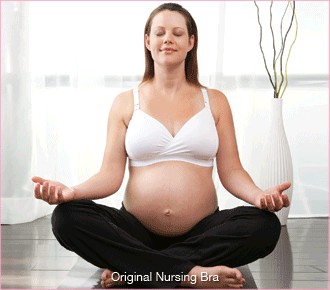 Mommy Gear's Guide to Nursing Bra Sizing
Finding a comfortable, supportive and accessible nursing bra is one of the most important choices you can make. The last four to six weeks of your pregnancy is an ideal time to purchase your nursing bras. If you are shopping strictly for nursing:
If you are planning to breastfeed, it's also a good idea to get nursing bras to wear during and after your pregnancy. To purchase a bra to wear for both maternity and nursing:
Allow for one cup's growth after your milk comes in

Fit the bra on the smallest back-hook closure. You will get bigger around the ribs as you baby grows during pregnancy, and then smaller again after the baby arrives.
Keep in mind that the cup is proportioned by band size, so a 38D is a little bigger in the cup than a 36D.
How to Measure for Your Nursing Bra: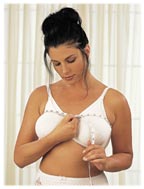 The following information will help determine your correct bra size. If you have any questions, please indicate your measurements in the comments section of the order form or call us at 1-888-624-GEAR.
Band Measurement: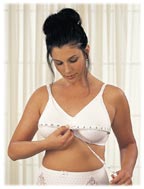 Cup Measurement:
| | |
| --- | --- |
| | Example: |
| 37 | Underarm Measurement |
| +1 | Add 1" if Uneven number |
| 38 | Band Size |
| | |
| 42 | Fullest Bust Measurement |
| -38 | Band Size (above) |
| 4 | Cup Size 4" = D Cup |
| | Bra Size = 38D |
| | |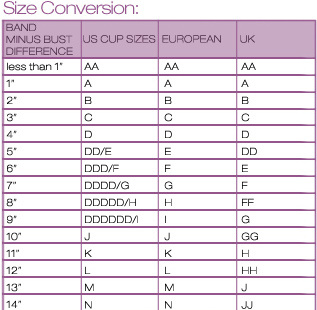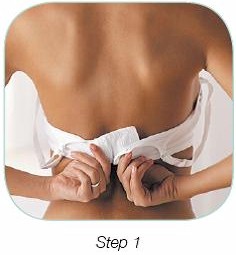 Find Your Best Fit...
1. Adjust Back Hooks

2. Lift & Scoop Breast Tissue into Cups

3. Tighten Shoulder Straps for Support

4. Check Cup Triangle for Spillage & Pressure Points

5. Center of Bra Should Be Flat Against Breastbone (if bra away from breastbone, cup too small)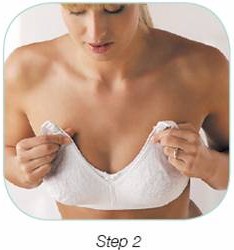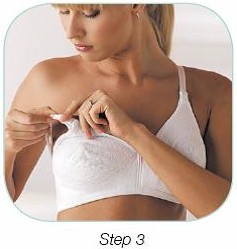 | | |
| --- | --- |
| Good Fit | Poor Fit |
| | |
| Fitting comfortably along top 2 edges of cup and against breastbone in center...an excellent fit. | Too small in the cup: pressing breast and gaping at top of cup, far from breastbone in the center, tight at the ribs. |
| | |
| Bra fastens snugly below shoulder blades and is parallel to the floor. Shoulder straps also adjusted for a comfortable, but snug fit. | Bra riding up in back...Try going up a cup size and down a band size to get proper support |


Q How does Mommy Gear's Sizing Run for Tops & Dresses?
A Mommy Gear nursing clothes are designed with your gradually slimming post-pregnancy shape in mind--after all you lose weight faster when you're breastfeeding! So, you don't have to worry about a boxy, maternity look to our styles. Many of our styles are designed for only slight shrinkage, so please order your usual size, without going up a size to allow for large amounts of shrinkage. If you're between sizes, it's usually advisable to go up to the next size.

The fabric type can also affect the way that sizes fit. Here are a few of our most common fabrications and the way that they affect sizing:
Ribbed Cotton--Stretchy vertically woven cotton. Will fit a bit looser
Jersey Cotton--Very little stretch to this beefy t-shirt fabric. Will feel a little snugger.
Stretch Cotton/Lycra Blend--Stretchy smooth woven fabric. Will stretch, but feels a little snugger.
Rayon or Viscose/Lycra Blend--Stretchy smooth jersey fabric. Will stretch, but feels a little snugger.
The sizing of the items can vary slightly from manufacturer to manufacturer, but here is a general sizing chart. We will note if a particular item is running a little bigger or smaller than expected in its description. Please email us if you'd like specific measurements for an item. For detailed information on how to measure for a nursing bra, please see below.
Mommy Gear Sizing

Size

Bust Up To:

Waist Up To:

.




Hips Up To:

.




Shirt Length




X-Small

4

36

27

36

23

Small

6-8

38

29

38

24

Medium

10-12

40

31

40

25

Large

14

43

34

43

26

X-Large

14-16

46

37

46

27

2X

18-20

50

41

51

28

3X

22-24

54

46

55

29